Fettuccine in Cayenne Cream Sauce
alligirl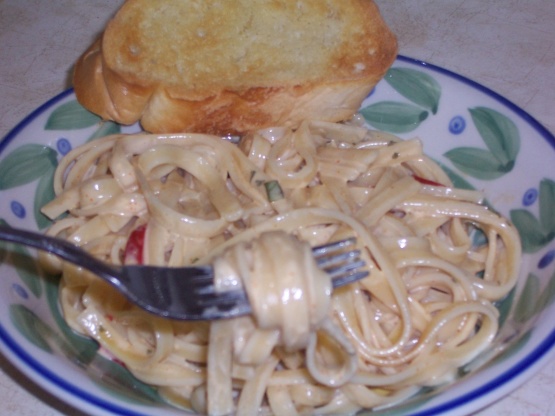 This delicious side dish for an Italian meal works well for a luncheon main dish, too. We have it with a fresh mozzarella/tomato salad and crusty roll. We have been known to have a glass of wine with it, too! The recipe is in a Great Italian Meals in Minutes cookbook of mine.

Oh my goodness! This was delicious! And hot; almost reminded me of cheese straws, which I love! Spicy and creamy, with an underlying tang from the fontina and parmesan. Wonderfully flavorful and quick to throw together, this will most certainly go in my rotation! Thanks for sharing, NoSpringChicken.
Cook fettuccine as directed on package, drain; return to pan; set aside and keep warm.
In small pan over medium heat, bring cream to a boil; immediately lower heat and simmer for 5 minutes.
Reduce heat to very low and gradually add both cheeses, stirring constantly; do not boil.
Stir in salt and cayenne to your taste, starting with the smaller amount of cayenne first. ( We like ours best with the 1 t. of cayenne).
Add sauce, roasted peppers and 2 T. parsley to the fettuccine, toss to coat.
Turn fettuccine into serving bowl and sprinkle with the remaining parsley.