Fettuccine Carbonara (Healthy Version)
Sageca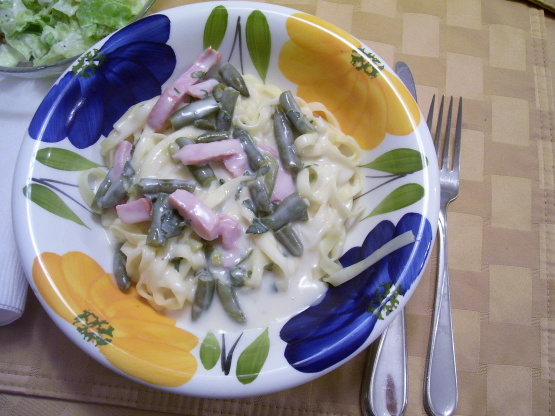 If you crave a creamy fettuccine, but hate the calories it packs with it. Try this recipe makeover. The family loves it and they don't even know it nutritional value. Save 16 grams of fat per serving by replacing the egg yolks and whipping cream with PHILADELPHIA Light Cream Cheese Spread, KRAFT Light Classic Caesar Reduced Fat Dressing, flour and fat free milk to achieve the same creamy texture and using smoked ham in place of bacon. Plus, you'll save 80 calories too! AND, it tastes great!

My husband and I LOVE fettuccini Carbonara. So, when we started eating healthier, we thought we were out of luck. Until I ran across this FANTASTIC recipe! Tastes every bit as good as the high fat version. Thank you very much, as it will be a new staple in our kitchen!!!
1⁄2 lb fettuccine, uncooked

1

cup frozen peas
1⁄4 cup philadelphia light cream cheese spread
1⁄4 cup reduced-fat caesar salad dressing, KRAFT Light Classic

1

tablespoon flour

1

cup nonfat milk

1

(6 ounce) packageoscar mayer smoked ham, cut into short strips
1⁄4 cup chopped fresh parsley

3

tablespoons kraft 100% grated parmesan cheese
COOK pasta as directed on package, adding peas to the cooking water for the last 3 minute of the pasta cooking time.
MEANWHILE, beat cream cheese spread, dressing and flour in small saucepan with wire whisk until well blended. Gradually add milk, stirring constantly until mixture is well blended. Add ham; cook on medium-low heat 5 minute or until heated through, stirring occasionally.
Drain fettuccine mixture; return to saucepan. Add sauce mixture; mix lightly. Cook an additional 2 to 3 minute or until heated through, stirring occasionally.
TOP with parsley; sprinkle with Parmesan cheese.