diner524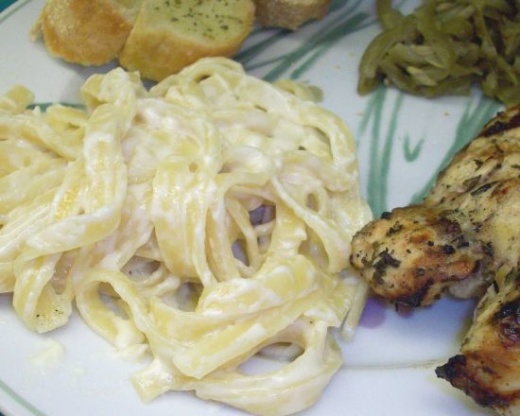 This is a modified version of the Fettucine Alfredo recipe in the new Joy of Cooking. It's very rich and I highly recommend using the best ingredients you can get.
We made this to go along with some grilled chicken and it was delicious!!!! Five stars from the whole family!!!! I followed the recipe as written, using the shredded parmesan cheese, which I think makes the difference from a 5 star rating and those who rated it a one star. Do not use Kraft grated parmesan cheese!!! Thanks Sass for another great recipe that will be used often, as it is so simple!!! Made for Spring PAC 2008.
Boil water for pasta.
In a large frying pan (a steep-sided wok is ideal) melt butter on very low heat.
Start cooking pasta.
In frying pan, combine half and half, Parmesan, garlic, salt and pepper with melted butter.
Mix thoroughly and turn the heat up to medium (just hot enough to begin melting cheese).
Pasta should be nearly done by now; drain and pour into frying pan with sauce ingredients.
Toss together and serve immediately.