lazyme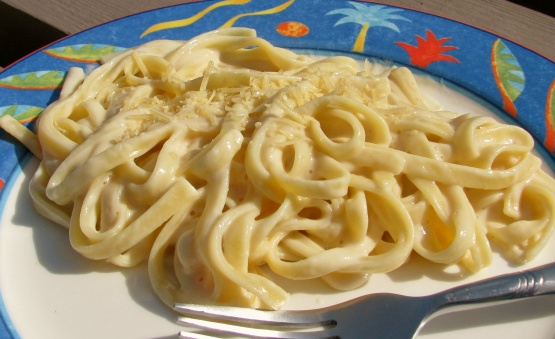 This marvelous recipe is one I got off this newsgroup some months back, but am reposting for the Alfredo request since I have no idea if the original poster is still around to see the new request. Since it isn't mine, I've also included the original poster's notes and attribution. Yummy stuff! Introduction: This is the real thing. You will not find a better Fettuccine Alfredo other than at Alfredo's in Rome, Italy. The secret to his sauce is in the Parmigiano-Reggiano cheese (don't even try this recipe without it), the balance of the pepper and nutmeg. For some reason restaurants never get it right. Be warned that the sauce is heavy. This recipe serves 2. Recipe by Ricardo Batista Fettuccine Alfredo

I had given this recipe a rating a while back. I just couldn't believe that someone would rate this one any lower than a five star rating. I always just double the recipe if I want more sauce. It depends on your own taste. I have never been able to find a recipe that had that true Authentic flavor like this recipe. It is soooooooooo good. I have to admit, it's my family's favorite dish and is requested all the time. We usually have this one at least once every couple weeks. We love it. Thanks again!!!!!!!!!!!
Grate the cheese, black pepper and nutmeg if you need to.
Put 4 quarts of water to boil.
Cooking: Set small frying pan in mid-high heat. Add the butter and the cream to the frying pan and mix well.
Stir the sauce frequently and add the black pepper, salt and nutmeg, boil and stir frequently until the sauce becomes heavier, then reduce the heat. Add the pasta to the boiling water along with some salt and cook to your liking.
Once the pasta is cooked, drain the pasta and add it to the sauce. Add the grated cheese to the sauce and pasta, and mix until the cheese is absorbed by the sauce.