Parsley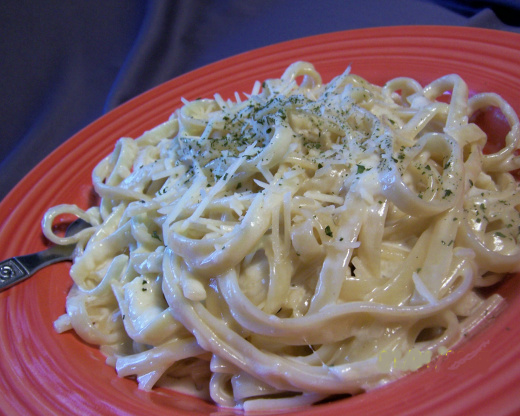 National Fettuccine Alfredo Day: February 7

Feb 06, 2011:

Made this again, been too long! Delicious!

April 24, 2006:
Tried this recipe tonight. We used 12oz of mushroom pasta (really good), and added minced garlic as well. Ended up using twice as much cheese as the recipe calls to make the sauce thicker (like we prefer). Great tasting meal though, and would definitely make again. I am saving this recipe to my cookbook. Thank you for submitting it.
Cook pasta according to package directions.
While pasta is being prepared, melt butter in large skillet; add cream, salt and pepper. Bring to a boil and simmer for a few minutes uncovered to reduce and thicken sauce.
Remove from heat and add cooked fettuccini and 1 cup Parmigiana Reggiano. Toss to combine and serve immediately with an extra sprinkling of Paremesan cheese over the top, if desired.
NOTE: The success of this dish depends entirely on the use of fresh Parmesan cheese.
Feel free to add any vegetables or meat to this basic recipe. Delish!