Rita1652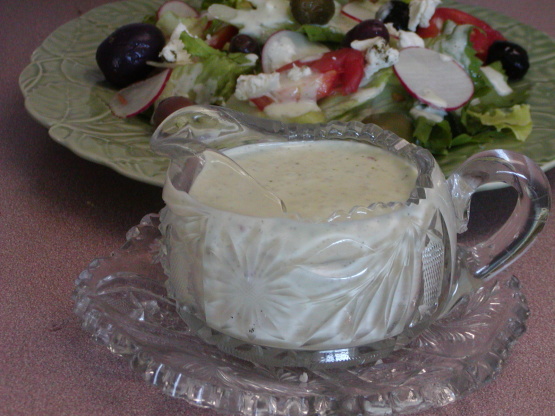 I find this salad dressing works best on stronger-tasting greens, and it is especially nice when you've used green olives in the salad. It keeps well in the refrigerator for several days, and the flavor actually improves the second day.

I just loved this dressing. The flavor is very strong and pungent and I appreciated your suggestion of using it on stronger tasting greens which held up well to the flavor and created a great balance. I used greek yogurt which made for a very thick dressing and subsequntly thinned with a bit of rice milk whichwas a good choice as it is neutral in taste and did not curdle from the lemon juice. Thank you Flemish Minx for sharing the recipe.
Mix the first 4 ingredients together in a small bowl.
Add the olive oil in by dribbles, whisking all the while and until it is completely incorporated.
Mix in oregano and mint.
Add salt and pepper to taste, if needed (keeping in mind that the feta will probably already be somewhat salty).