Hadice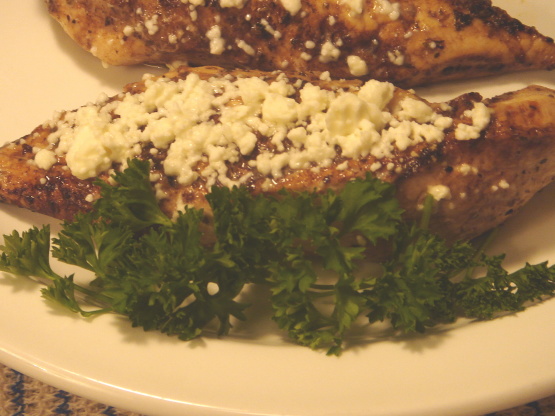 These are elegant and easy to make. Perfect for company or a romantic dinner. Simply sensational!

I originally found a recipe like this at eatbetteramerica . com. It quickly became a family favorite. I never thought of using balsamic, I only used red wine and lemon (a kind of souvlaki type mixture). But overall this is possibly one of my all time favorite recipes. Don't skip broiling the feta. If you like feta you will LOVE broiled feta. Just leave it in till it browns a bit!
Set oven to broil. Brush both sides of chicken breasts with dressing. Sprinkle both sides with Italian seasoning and seasoned pepper. Place on rack in broiler pan.
Broil with tops 4 inches from heat about 10 minutes, turning once, until juice of chicken is clear when center of thickest part is cut (170°F). Top with tomato and cheese. Broil 2 to 3 minutes longer or until cheese is lightly browned.