3 Reviews
This is such a great base recipe that lends itself to so many options as it's so simple and fresh. I added a very thinly sliced cucumber and the smallest splash of balsamic vinegar. I didn't have any fresh basil and thought dry wouldn't work, so I left that out. I think avocado would also work really well in this recipe and will add that next time (with a squeeze of lemon), a can of beans (kidney, pinto, black or chick pea) would also go great in this (with a can of tuna). Thanks for posting!

This is such a lovely salad to look at and then when you taste it the flavor is heavenly. I followed the recipe as written except for one exception. I added some diced green onions to it also as I needed to use them and thought they would compliment the salad well and in my opinion they did just that. Thanks so much for posting a very tasty salad recipe and one that I will use often in this house.
Delicious. This is a great summer salad. The only changes I made were to substitute black olives for the green (I have kids who are extremely picky) and to add a tbsp. of fresh lemon juice. It was tart, tangy, and tasty! Thank you Luschka! On to your peppermint crisp.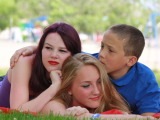 Feta, Tomato, Basil and Olive Salad