Bergy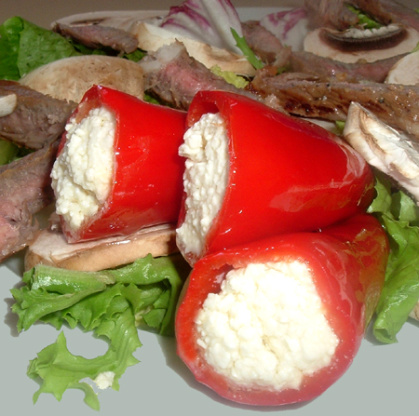 I saw these beautiful red Jalapenos and couldn't resist them but not sure what to do with them - I found a recipe on the internet by "Claire". Tweaked it a bit. Depending on the size of your peppers you may need a bit more oil & vinegar (keep it in proportion)they must be covered with the oil/vingar while marinating. Simple and Oh so tasty Prep time does not inclued the minimum 4 hours marinating

I haven't tried making this yet, but they sound wonderful. I love anything spicy and cheesy. I especially like fresh jalapenos! Your photo is very pretty! I'll update this rating after I make them, which will be very soon!
Place the cleaned peppers in a jar or a bowl and cover them with the Olive oil & vinegar.
Cover and place in the fridge for at least 4 hours or overnight.
Preheat oven to 350.
Drain the peppers and place them on a baking sheet single layer.
Bake for 10 minutes or only long enough to soften them-do not let them brown.
Cool and set aside.
Mix together the feta & cream cheese.
Fill each pepper with the cheese mixture.
Serve as an appetizer or as a side dish with
any meal.