Feta, Spinach and Pecan Pasta Salad
PaulaG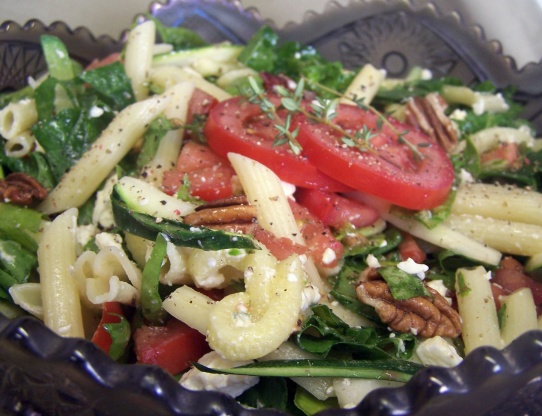 An usual but tasty flavor combination from the Austin Jr. League Cookbook...pecans are everywhere in central Texas so this is their own take on a more typical salad. :o)
Cut spinach into 1/2"x3" strips.
Combine spinach, tomatoes, thyme, and 6 Tbsp olive oil in bowl; toss gently and season lightly with pepper, if desired.
Cook pasta in boiling water 8 min, or al dente.
Remove from heat (do not drain) and stir in zucchini; let stand 15-20 seconds.
Drain and rinse with cold water; combine with spinach mixture and toss well.
Drizzle with 2 Tbsp olive oil, if desired.
Add feta and pecans; toss to mix and season with salt if desired.
Serve warm or at room temperature.