Feta Custard in Phyllo Cups
flower7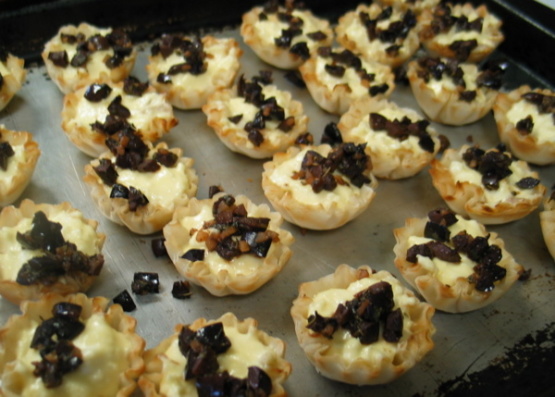 This originally came from Better Homes & Gardens. These little guys were scarfed up in no time at a party I made them for. Everyone raved about them! I personally couldn't keep away from them and ate quite a few! :) The filling can also be mixed by hand if you don't have an electric mixer and don't mind a few small lumps.

Fabulous! I made these for a starter for our Easter Day Lunch today, and they were all gone by the time we were ready for our second aperitif drinks!! I made them exactly as written, and used my small cake/bun trays for them. We all loved the "Tapenade" type topping. A real keeper - thanks flower7 - an easy and elegant starter! Thanks for posting this recipe. FT:-)
Preheat oven to 325°F Combine cheeses, egg, lemon juice and flour with an electric mixer on medium speed until almost smooth.
Place phyllo shells on a baking sheet.
Spoon cheese mixture evenly into shells, using a heaping 1 teaspoon per shell.
Bake for 15-17 minutes or until shells are lightly browned and crisp, and filling is very lightly browned (I do mean very!).
Meanwhile, in a small bowl, stir together olives, oregano, olive oil, vinegar, garlic, cumin and cayenne.
Sprinkle olive mixture evenly over tops of baked custard.
Serve immediately.