Linajjac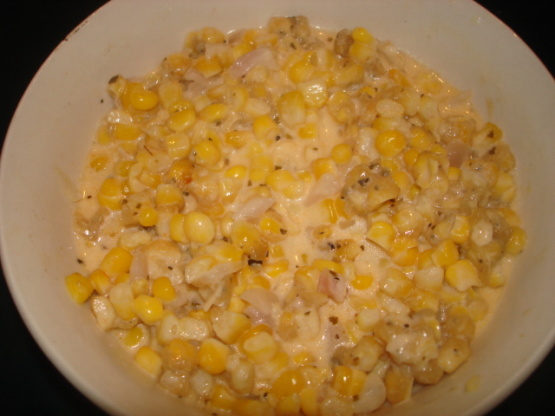 this is a quick , easy summer side dish

I believe I doubled the recipe-I added 1 lb. of frozen kernels, and doubled all of the ingredients, except I had a 6 oz. tub of feta, so didn't quite double the feta. My DH and I liked this very much, but alas-too much of a different taste for my young DS's so they didn't care for it. I expected that this would have been much richer than it was, but the feta gave this an interesting bite. Thanks chia!
heat skillet on stovetop.
add olive oil, onions, garlic, cook until softened.
add corn and rosemary and stir.
add stock and simmer until corn is tender, 5 minutes.
add heavy cream, bring to a boil and cook until reduced by 1/3.
remove from heat.
stir in feta and butter until creamy.
season with fresh ground pepper, serve.