Rita1652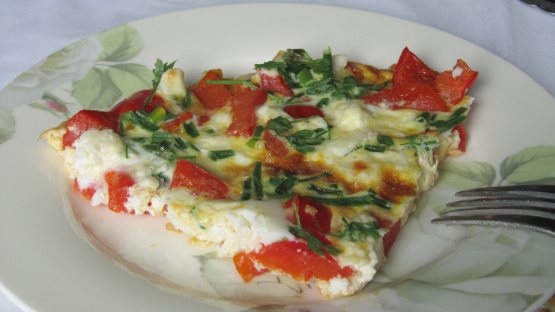 This flavorful frittata is perfect for a light and easy family lunch. Or serve with sauteed potatoes and green beans for a more substantial dinner. This frittata is also delicious served with roasted vine tomatoes.

This frittata made for a great breakfast the other day (colorful & tasty, too) & had enough for a lunch for 2, as well! I was unsuccessfully encouraged to include some other things, but since I wanted to make it as given, to see how it was supposed to taste . . . And it was great, as I said! Definitely a keepeer of a recipe! [Made & reviewed while touring Greece with ZWT6]
Heat the oil in a large, non-stick frying pan, add the peppers and cook over a medium heat for 15 mins until softened and lightly coloured. Scatter over the feta.
Combine the eggs, cream and herbs, then season well. Pour over the pepper mixture, reduce the heat and cook for 15-20 mins until just set. Cook the top under a pre-heated broiler for 5 mins until just golden. Cut into thick wedges and serve.