WiGal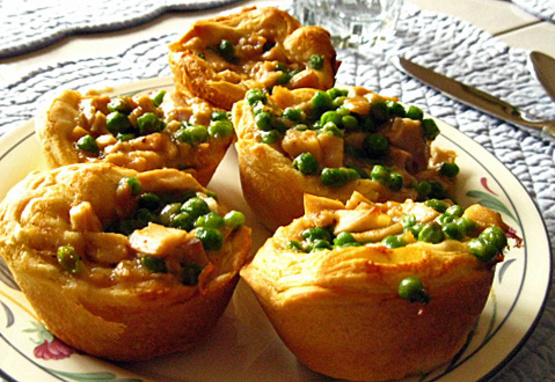 With Thanksgiving coming, this is a great way to use up leftover turkey.

Very good! I made these for lunch this afternoon. I used my leftover gravy instead of using a packet. This made for quite a bit of filling, so I spooned the leftovers on top of the cups. I only had Grands style biscuits, so it made for eight big biscuits. They were a little soggy, but that is only from using the bigger biscuits. Super easy and a great way to use leftovers like you said. I will be looking forward to this simple recipe every time I made a turkey now. Made and Reviewed for Bargain Basement Tag Game - Thanks! :)
1

(12 ounce) canrefrigerated biscuit dough

1

(2 ounce) package turkey gravy mix

1

cup milk

1

tablespoon butter
1⁄2 cup frozen peas, thawed

1

cup cubed cooked turkey or 1 cup cooked chicken
1⁄4 teaspoon thyme
Preheat oven to 375*. Press one biscuit onto bottom and up the sides of each cup of two 6 cup muffin pans (will fill 10 cups). Chill until ready to fill.
Blend gravy mix and milk; set aside. Melt butter in large skillet over medium heat. Stir in peas, turkey and thyme; heat through. Add gravy mixture. Cook, stirring constantly, until gravy comes to a boil. Reduce heat and simmer, stirring constantly, 1 minute, or until thickened.
Spoon turkey mixture into prepared biscuit cups. Bake 15 minutes.