DuChick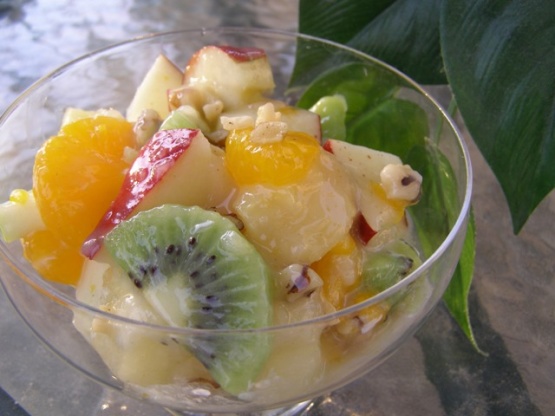 From one of the TOH magazines submitted by J Johnson. I love the combo of the different fruits and the walnuts - just a good blend. The dressing is light and does not mask the flavors of the fruit. Allow 30 minutes at least for dressing to cool and another hour for salad to set before serving.

Fabulous! What a pretty presentation this salad makes with all the lovely colors! The dressing is truly light and has the perfect touch of sweetness to meld all those fruity flavors together. I did add a pinch of cinnamon and another of nutmeg to the dressing. I also used one red and one green apple to add to the overall color. Loved the walnuts too! Thanks, HokiesLady for another winner.
Drain pineapple and reserve the juice and set the pineapple aside.
Pour the pineapple juice into a small saucepan, add sugar and flour; then bring to a boil.
Quickly stir in the lightly beaten egg and cook until thickened.
Remove dressing from heat and let cool - then refrigerate till using.
In a large bowl, combine all the fruit and the nuts.
Pour the dressing over the fruit and blend well.
Cover and chill for one hour so flavors blend.