teresas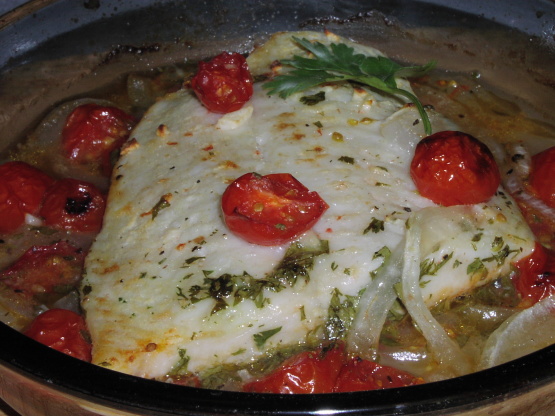 I saw beautiful tomatoes in November at the Mexican/Arabic/Polish market and had to use them with the fish I was planning for dinner. I remembered a recipe I had seen while at the dentist's ". This recipe is festive in its appearance and its flavors. I hope you enjoy it as much as we did.

Top Review by Nasseh
I made this dish using talipia fillets. I thinly sliced potatoes & added it to the bottom of the dish before layering the onions & tomatoes. I also added small amount of ginger, cumin, & tumeric to the marinade. (My hubby likes a lot of spice.) Both him & my son devoured the whole pan. Made for Ramadan Tag 2011
Preheat oven to 350 deg. F.
Combine cilantro, garlic, lemon juice and 2 tbl. olive oil. Place in dish or plastic bag, and add fish fillets. Be sure fish is coated in marinade. Marinate for about 30 min., while completing rest of dish.
Grease baking dish with 1 tbl. olive oil. Distribute sliced onions on bottom, top with chopped tomato, and sprinkle with salt and freshly ground pepper. Cover with aluminum foil and bake for 30 minutes - onions should be soft.
Place fillets on tops of onion/tomatoes and drizzle marinade on top. Sprinkle with salt and pepper. Return to oven and bake until fish is flaky, about 30 minutes.
Serve with rice or couscous.
Note: Cooking time will depend on thickness of fillet. If you use very thin fillets, you may need to remove them earlier and keep them warm, and return the onion/tomato mix to the oven. Total oven time should be about one hour.