Festive Cranberry Banana Bread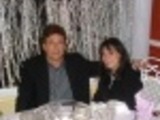 I had never really thought to put these two fruits together before, but the cranberries really jazz up ordinary banana bread. The tartness and the sweetness really complement each other. It also makes a great holiday gift.
Directions
Preheat oven to 350 degrees. Grease and flour two 8x4-inch loaf pans.
In electric mixer bowl, combine butter, sugar and eggs. Beat until smooth. Add lemon juice and vanilla extract; mix to combine. Stir in bananas and cranberries.
In a separate bowl. combine flour, baking powder, cinnamon, and salt. Add to the wet ingredients and stir until moist and combined. Pour batter into loaf pans.
Bake at 350 degrees for approximately 60 minutes or until bread tests done. Let cool, then wrap in aluminum foil.
Reviews
Most Helpful
Oh my Jackie!!! I now have a favorite banana bread. This bread is fantastic! Thankfully our market carries cranberries quite a while after the holidays in the freezer section. I will definitely make this bread again. I can't wait to pair it next to my cranberry orange bread during the holidays...I'm sure it will be one of the first things to disappear. Made for the (Winter) Newest Zaar Recipe Tag Game.
This had great flavor-nice combinations! Mine turned out a bit dense. I thought the batter was a bit too "wet" and that caused the denseness, I think. I only made one loaf, so I think 1 less egg or banana per loaf would work better. But good basic recipe that I will make again with a few changes. I would also add some chopped pecans.