awalde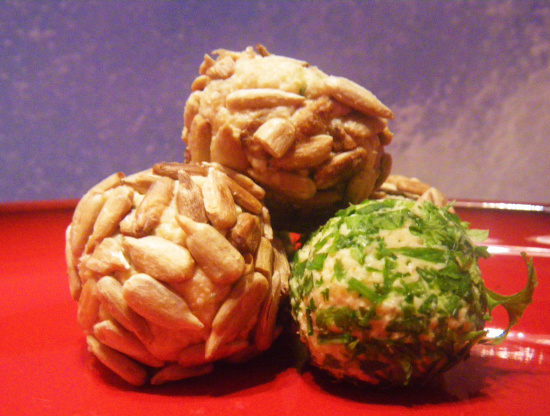 Cheese is a wonderful and versatile party food. This cheese ball is loosely based on a recipe my mother always made to take to Christmas parties. It's quite different from her actual dish, but equally tasty and very easy to bring together. Time includes the first refrigeration.

(March 18, 2013): I did not make a ball from this... I made a log instead. I was able to prepare the recipe somewhat as written, but I chose to roll the mixture into an approx 2" diameter x 6" long tube (using wax/plastic wrap). I refrigerated the cheese roll for about 1 hour. While it was firming up, I crushed and re-hydrated some dried cranberries in a bit of warm water, strained and laid them on a plate. I removed the cheese log from the fridge and rolled it into the chopped up cranberries. (Sorry, I didn't have sunflower seeds or parsley on hand when I was making this... but I'm sure that would have been delicious also, and I plan to try it that way soon). Chilled again to get the coating to stick. I sliced the log into approx 3" sections and placed on separate plates with another cheese, sausage, olives, crackers and a grainy mustard. Thank you for posting this recipe. I was a hit at our get-together. (Made it just for the heck of it, and also made for PAC - Spring 2013). UPDATE: I failed to mention prior... I would recommend at least doubling this recipe for a crowd.
Put the three cheeses in a food processor, and buzz until blended.
Add the remaining ingredients -- except for the sunflower seeds and parsley -- and buzz to blend well.
Put the cheese mixture in the fridge for two hours so it firms up.
While cheese mixture chills, toast sunflower seeds until they are golden, then remove from pan and allow them to cool. Then stir together seeds and parsley. Set aside.
Remove cheese mixture from fridge and shape into a ball or log (you may need to wear latex gloves to do this).
Spread sunflower seeds and parsley on a sheet of waxed paper, and roll cheese ball/log in this combination.
Serve with crackers, crudités and or small toasts.