Festive Caprese Salad Wreath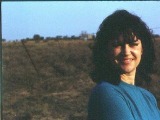 This is not really a recipe, so rather use the picture as a guide! Use both sliced and whole tomatoes, and try to get different-sized types. I made this for our hot-weather Christmas lunch, but it would be perfect for any occasion. We get the mozzarella balls in a light brine and the pretty white balls look great with the tomatoes, but you could cut up any good-quality mozzarella. The pesto was a nice bright green, but by the time I took the picture it had darkened somewhat. Quantities are guesses: I had a lot of tomatoes and more or less "arranged" them to taste. A large white round platter would be best to use -- I could not find one in time, so used a pale green one.
Directions
Wash and dry the tomatoes.
Slice the large ones neatly in thickish slices; do not peel.
Slice some of the larger grape tomatoes in half and keep others whole.
Arrange the slices of tomato and the different-sized tomatoes in a circle, preferably on a large white platter.
Drain the mozzarella balls (preferably a large and a small size), and arrange to your taste between the tomatoes.
Drizzle vinaigrette dressing over the tomatoes and mozzarella. (Alternatively, you can toss the prepared tomatoes and the mozzarella in a bowl with the dressing, and then arrange it around the platter).
Place the pesto in the centre.
Garnish with sprigs of fresh basil, or use fresh oregano, which is equally good.
Put the sea salt flakes in a small bowl and ask guests to season their own salad.
Most Helpful
Lovely look. A good idea to use brined bocconcini as mentioned in the introduction, mine were not, just in water so I added flaked sea salt on top before serving. Made a vinaigrette with a little of the recipe#387715 I used for the center added to it. Made for ZWT7 Italy, for my team Food.Commandos

Your Festive Caprese Salad Wreath was a "Beauty to Behold & a Crowd Pleaser"! Made for our annual Family Reunion & BBQ. Because of the number of people attending I used an extra large platter but was guided by your recipe and picture guide. I needed to use more of everything. I did line the platter with baby greens and used a mixture of red, yellow and purple tomatoes. I, also lined the outer edge of the platter with slices of large tomatoes. (used for hamburgers) I kept the vinaigrette close by for all and saved the greens from wilting. Thank you Zuri for "saving me" from making the "same old - same old salad". :)

How perfect! I love a caprese salad when it's hot, which it is here! I used a mix of green and purple basil, and red, yellow, and purple tomatoes, figuring the color was nice and summery, but if there are good tomatoes to be had this Christmas, I may make it in the reds and greens you show. The pesto is a great touch. I had always done this with oil and vinegar before, but I love it with pesto. Thanks for posting.