jenne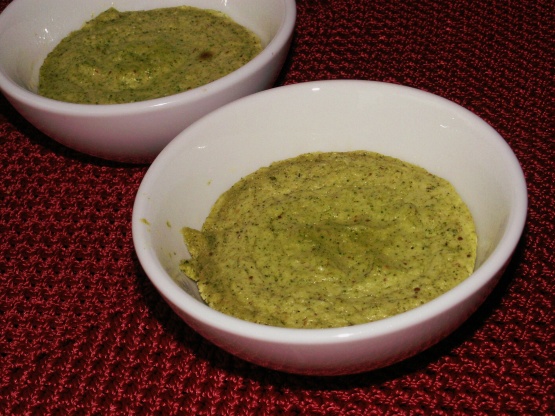 I made these for Christmas Day lunch, I was so glad that even the children, not generally adventurous, enjoyed them! I prepared them ahead of time, up to step 5, cooked them shortly before serving, and chose to serve them in the ramekins I had cooked them in. Made in the microwave, instructions are based on a 650/700 watt microwave, mine is a little bigger, so I adjusted times accordingly, cooking for slightly less time. Lovely presentation, smooth creamy taste with a hint of mustard, very easy to prepare, I was impressed with these. From "Christmas Microwave Know-how"

This is a truly FANTASTIC recipe. I couldn't think of anything to do with the other 2 whites so I beat them up & folded them in. Worked wonderfully. I plan on making this as a first course at Christmas dinner. Both dd & the almost ex suggested adding some parmesan. Made for Culinary Quest 2014/CCQ.<br/>I want to add that I think this would well with several different veggies - cauliflower, spinach, just to name a couple.
Place broccoli in a bowl with the water. Cover and microwave at 100% (High) for 8 - 10 minutes until tender. Drain well.
Liquidise broccoli with the cream in a blender or food processor, until smooth.
Turn into a bowl, and beat in butter, egg yolks, mustard and seasoning.
Carefully fold in egg whites.
Divide mixture among 8 individual greased moulds, and level surfaces.
Arrange in a circle in microwave, and cook at 100% (High) for 6 - 7 minutes until just firm, re-arranging once.
Turn out onto serving plate and keep warm, to serve with main meal.