Festive Broccoli Fettuccine Au Gratin
BecR2400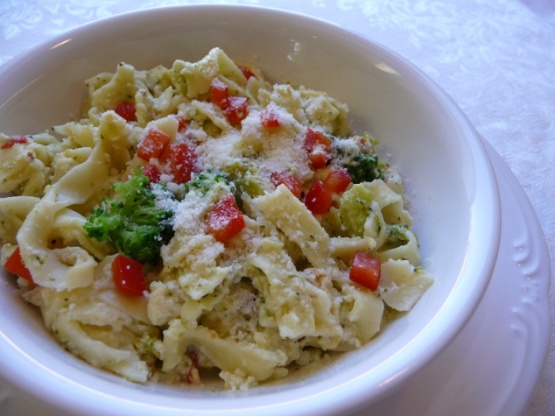 A delicious side to seafood or chicken dishes! Festive looking, with the red bell pepper and green broccoli.
Preheat oven to 350 degrees F.
Butter a 8 x 8-inch baking dish.
In a medium bowl combine the fettucine, broccoli, and chopped red bell peppers; spoon into the buttered dish.
In the same bowl, beat the cream cheese, 3/4 cup grated Parmesan, eggs, garlic, salt, and pepper with an electric mixer on medium speed until combined; stir in the cream.
Pour cream cheese mixture over fettucine mixture and top with remaining Parmesan cheese.
Bake for 30 minutes until hot and bubbly.