Festive Braised Rice (Microwave Recipe)
Boomette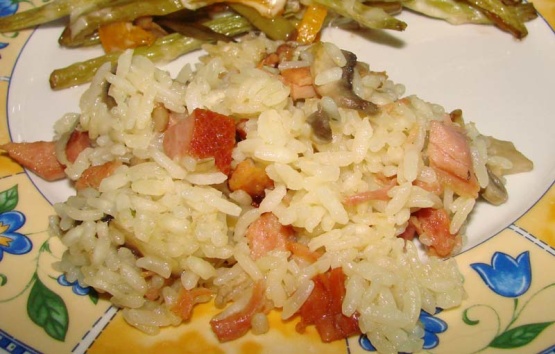 Great for using up leftover ham & turkey from X-mas but great anytime of the year also. The stock amount could be halved and white wine added for extra flavour.
I like risotto and this rice recipe is almost a risotto cause it's made with arborio rice. Next time, I'll add more mushrooms. I used only oil. I used leftover ham. Omitted the parsley, salt and pepper. I used low-sodium chicken stock. It was easy and I'll do it often even without ham. Thanks Mandy :)
Place oil & butter in a microwave safe dish and cook on high for 2 minutes.
Add onion and mushrooms, Stir to coat with oil mixture. Cook for a further 2 minutes.
Stir in rice and cook for 2 minutes Blend in stock and cook for a further 8 minutes.
Stir in ham, turkey, parsley & seasonings. Cook for 9 minutes.
Sprinkle with parmesan cheese to serve.