Festival and Theme Park Turkey Legs
FlowrBx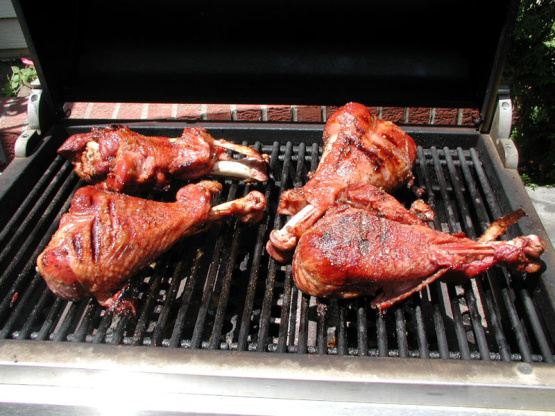 We love the turkey legs they serve at the local Flea Market, the Colorado Rennaissance Festival and at our theme parks, so we sought out the recipe and now use this excellent version to indulge in that tasty finger [hand] food.This is supposedly the authentic recipe used by turkey leg vendors at fairs and festivals. Boiling the turkey legs first may seem like cheating but if you have to make thousands of them to sell you don't want to have them sitting on your grill for 20 to 30 minutes before you sell them. Original recipe from the About.com website. For easy serving, after grilling, wrap the bottom end of the legs in aluminum foil and a napkin or paper towel to make a great "holder".
Combine soda, sugar, hot sauce, red pepper flakes, black pepper and onion slices in a large pot.
Bring to a low boil and add turkey legs.
Boil over a medium heat for about 30 minutes or until the turkey legs register an internal temperature of 165 degrees F.
Meanwhile, preheat grill.
Place onion slices on the heated grill and put the turkey legs on top of the onion slices.
Brush with honey and sprinkle with steak seasoning and pepper.
Grill over a medium heat for about 15 minutes watching carefully to avoid burning.
Turn as needed.
The skin should be crispy brown when the turkey legs are done.