Fern's Tortillas and Eggs Breakfast
Bergy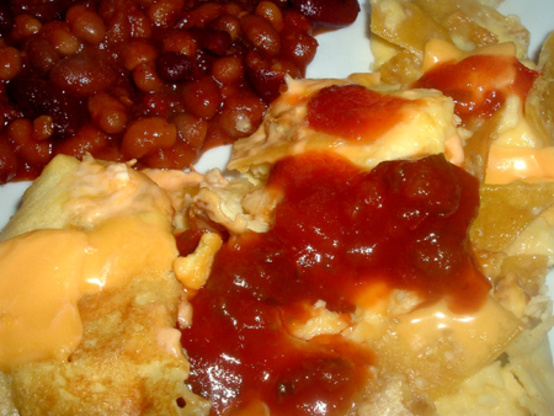 Simple eggs and tortillas dish for thoose days you don't feel like having cereal and want a nice, fast, no mess, and easy warm dish.

Top Review by Bergy
For flavor this is a 5 star but I would remove the crisp fried tortilla strips, scramble the eggs, top them with cheese and then just before serving stir in the tortilla strips. I want the tortilla to remain crisp. -I cut the recipe back to 2 eggs using 2 corn tortillas. served with baked beans- eggs topped with cheese and hot salsa Thanks chef#185990 for a very nice Sunday Brunch
Heat pan.
Melt 2 tablespoons of butter.
Cut tortillas into strips then cut the strips in half to make them small enough to fry in the butter.
Fry the tortillas ito the melted butter until golden brown.
In a bowl, beat the eggs.
Pour the beaten eggs over the fried tortillas in the pan.
Stir the mixture of tortillas and eggs, until the eggs are cooked and the tortillas are well mixed in with the cooked eggs.
Serve warm and topped with salsa and grated cheddar cheese.