Fennel With Wine and Parmesan
awalde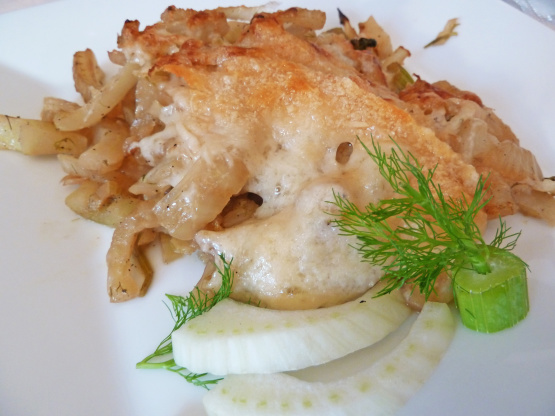 I'm sure that with this recipe a lot of people would convert to fennel lovers!

I am a newcomer to fennel and this is a very tasty recipe! I made half of the recipe and used a little less oil than called for. After cooking the fennel on the stove I put the pan under the broiler to brown the parmesan as per your second suggestion. We enjoyed this - thanks for sharing the recipe!
3

tablespoons margarine (butter suits as well, but it's not my choice) or 3 tablespoons olive oil (butter suits as well, but it's not my choice)

1

lb fennel, cleaned and sliced (1/4 inch thick)
1⁄2 teaspoon salt
1⁄4 teaspoon pepper
2⁄3 cup white wine
salt and pepper (adjust to taste)
3⁄4 cup parmesan cheese
Heat the margarine or oil in a wide non-stick pan.
Roast fennel (max heat) slices until light brown.
Reduce the heat to medium (in my case it needed about 10 minutes).
Add salt, pepper and wine.
Stir once and cover (medium-low heat).
Continue to cook until soft for about 10 minutes. If necessary add more wine or some water.
Adjust salt and pepper.
Now you have two possibilities (A and B).
A) Top with parmesan and continue to cook until parmesan melts (easiest and fast version).
B) Transfer fennel to a baking mold, top with parmesan and broil under grill shortly until parmesan changes color (beautiful and tasty). Don't burn it.
Serve warm as side dish.
Note: Small portions on a buffet woud be very cute as well. Reserve some fennel as decoration!