Fennel Spice Rub for Turkey (Michael Chiarello)
gailanng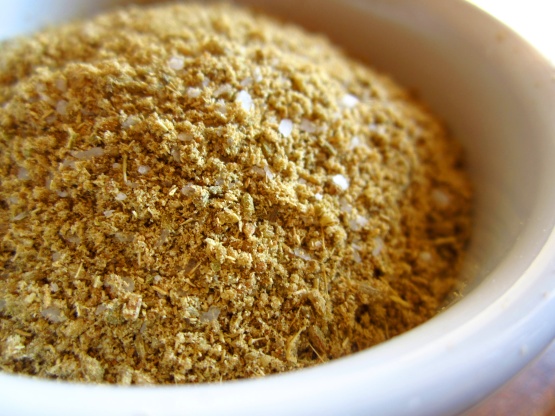 I make this every year for our turkey! It is so potent when you've first ground it, but don't worry, since once it's cooked you're left with a wonderfully spiced turkey (but nothing unusually flavored). People will not be able to pick out the spices, but will comment how great the turkey tastes. It makes the best gravy. It is so dark and rich with a great savory taste. Second time I brined turkey and it was super moist, although the flavor was the same when it was not brined.

As someone who only grows a couple of things (herbs, greens, children), I understand the convenience and practicality of store-bought rubs/seasonings. But, once you starting making your own, just be prepared to get hooked.
Fennel Spice Rub

1

cup fennel seed

3

tablespoons coriander seeds

2

tablespoons white peppercorns (I used black peppercorns the second time)

3

tablespoons kosher salt
Put the fennel seeds, coriander seeds, and peppercorns in a heavy pan over medium heat.
Watch carefully, tossing frequently so the seeds toast evenly.
When light brown and fragrant, pour the seeds onto a plate to cool.
They must be cool before grinding, or they will gum up the blades.
Pour the seeds into a blender and add the salt.
Blend to a fine powder, shaking the blender occasionally to redistribute the seeds.
Store in a tightly sealed glass jar in a cool, dry place, or freeze.
Note: There's a chicken salad recipe by Michael Chiarello that uses up some of the leftover spice mix:.
n a large bowl, combine shredded cooked chicken, celery, red onion, 6 tablespoons olive oil, 2 tablespoons lemon juice, 1 1/2 teaspoons Fennel Spice, and salt and pepper to taste. Taste and add more oil, lemon juice, or Fennel Spice, if desired. Add the basil and serve.