Parsley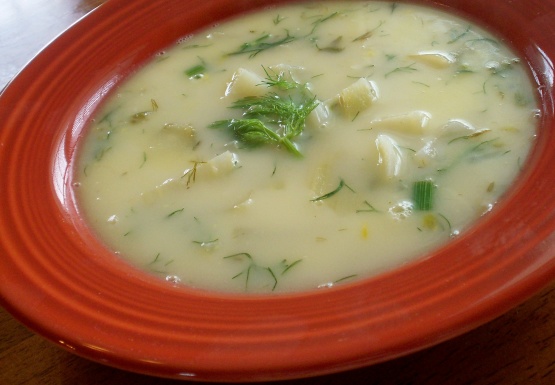 This recipe is from Gourmet magazine's very interesting November 1990 article about fennel. Fennel stimulates the appetite, refreshes the palate, and aids the digestion. It also contains few calories. Fennel is a member of the carrot family. It is also a 'cousin' of parsley and dill. It adds an interesting flavour twist to a classic Greek recipe.

This was our first time eating avgolemono. Very light, very tangy and cooling on a hot afternoon...14 y/o son says he would eat it again. I paired it with a toasted cheese panini (swiss and colby jack.) I added lemon basil leaves in the sandwiches, and it went together well. I chose this recipe because I had a leek and a small fennel bulb to use, and we love lemon. Our local lemons here in Hawaii sometimes have a calamansi-type twang to them, don't know if it changed the flavor. I think I need more fennel; could not taste it at all. Would try it again!
In a large heavy saucepan cook the julienned fennel and the shallots in the butter over moderately low heat, stirring occassionally, for 5 minutes. Add the chicken broth and bring to a boil. Simmer the mixture, covered for 15 minutes or until the fennel is just tender but not soft, and remove the pan from the heat.
In a heatproof bowl whisk together the lemon juice and the yolks. Whisk 1 cup of the soup liquid, a little at a time, into the yolk mixture. Add yolk mixture to the soup, whisking.
Return soup to the stove and reheat over low heat, stirring constantly.
Stir in the minced fennel leaves just prior to serving.