ImPat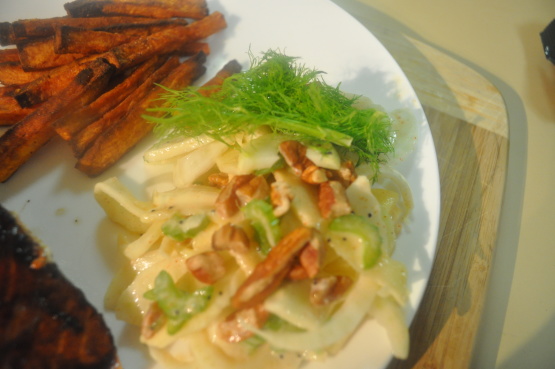 This is from Coup de Pouce. This is an healthy recipe done in only 20 minutes, preparation time. No cooking.
So refreshing and different! I used a 3% plain yogurt I had drained, and didn't totally measure the veggies (1 whole apple unpeeled, 1 whole fennel bulb, 1 stalk of celery). I sliced the veggies and put them in ice water with lemon juice to stay bright and crisp. Served as the starter for my "French feast" for ZWT 8! Thanks for a new salad!
In a large bowl, with a whisk, mix yogurt, honey, lemon juice, dijon, poppy seeds, salt and paprika until creamy. Add fennel, celery, grapes and apple and stir to coat well. When ready to serve, sprinkle with walnuts, if wanted.