Bergy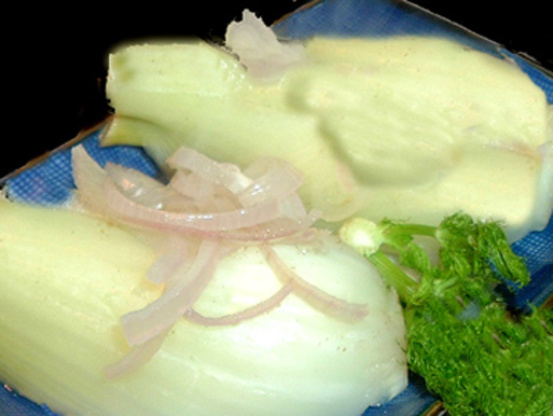 Serve slightly cool as a first course or as a side at an informal dinner. However the fennel version here can also be served hot as a side.

Top Review by Bergy
Easy recipe that brings out the lovely licorice flavor of the fennel. Unfortunately the fronds were cut off the only bulb I could find so I couldn't sprinkle on top but that didn't detract from the flavor. I used ground coriander. This is a do again recipe
Pull off a bit of the green fuzzy fronds, chop coarsely and save. Cut stalks off at bulbs. If needed use them to fresh broth's flavor.
Peel outer fibers off bulb with a paring knife. If outermost layer is dried or cracked remove completely.
Cut bulb in half lenghwise. Be sure to cut thorough the core forming at point of wedges. Leave this attached or the fennel will fall apart.
Arrange in single layer in large pot. Slight overlap is ok. Pour on wine and oil. sprinkle on seeds and shallot.
Bring to a gentle simmer, cover and cook 25 minutes. The fork should pierce the fennel but you should still feel slight resistance. Check after 15 minutes of cooking and add water if dry.
Remove lid when done. If liquid is left turn heat to high and quickly boil down liquid. You only want 1/2 cup remaining.
Sprinkle the cooked fennel with the salt, pepper and fronds. Serve hot on individual plates and spoon liquid over each. Or let cool and serve as other courses.