Felicity's Chicken Stuffed Red Bell Peppers
Bergy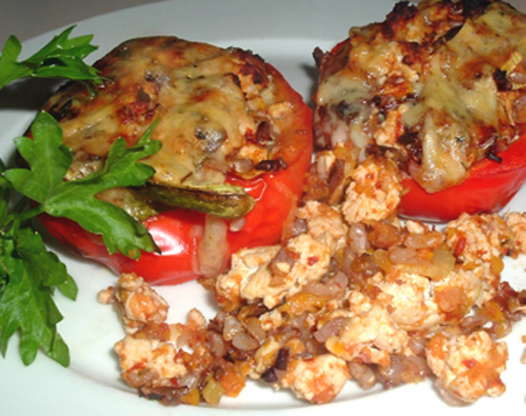 There are lots of recipes for stuffed peppers, this is mine. I served these with my Garlicky Grilled Chicken. If you wanted to serve them as a main course, you could decrease the rice & use more meat in the filling. You could also use lamb or beef as a change from chicken. I have suggested using spices to taste, because you can vary it depending on your mood or the theme of your meal. I used oregano, but you could use harissa or cumin for a middle eastern flavor or chilli for some heat... it's up to you to make my dish yours :-) Enjoy!

Top Review by Bergy
There may be lots of recipes for peppers but this is a special one! I cut the recipe back to 2 peppers and cut them longways. Baked for 35 minutes - perfect. I had some chipotle peppers in the fridge and added 3 to the recipe. The only other change was to use Greek flavored Gouda instead of Mozzarella. We really enjoyed the peppers. Because I made a full recipe of stuffing I have left overs so tonight I am making a kind of Egg Foo Yong with it. Thanks Mrs S - I am thinking of you
Cut the top off the peppers and remove the insides.
Chop onion, carrot, celery and garlic very finely.
(I use a food processor) Cook vegetables in butter until soft.
Combine vegetables, rice, chicken and cheese.
Season to taste.
Fill peppers with this mixture, pressing down as you go to ensure they are well stuffed.
Place peppers in a covered casserole and cook in a 180c oven until peppers are soft, approximately 60-90minutes.
To speed the cooking process, microwave the peppers for a couple of minutes before filling.
Once they are soft, sprinkle with additional cheese and broil until tops are golden.
Serve hot or warm as a side dish, appetiser or light lunch.