Felfel B'tomatish - Algerian Pepper & Tomato Salad
Um Safia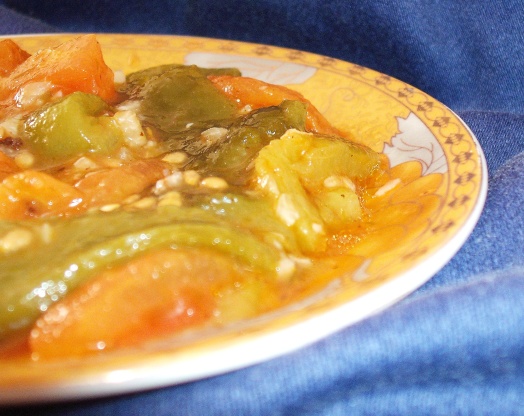 This is a classic Algerian 'salad' dish. You can either grill the tomatoes & peppers over an open flame, deep fry them or roast them. My family loves this recipe & we always mop it up with fresh bread! You can also serve this as part of a mezze selection. The vinegar is of course optional but it acts as a flavour enhancer so I do recommend at least trying a little of the salad with a few drops of vinegar on!

Very nice salad. I added some jalapenos to the mix and splashed on the vinegar towards the end and we ate it with fresh bread like suggested alongside Kofta and rice. I think next time I'll make it with a little bit more olive oil /water for added dipping sauce. Thanks. Made for Ramadan Tag 09.
Grill, fry or roast the peppers until they are softened but not mushy.
Place in a bag & leave for 5 minutes, then remove the skins carefully.
Chop them into pieces approximately 1" x 1/2 ".
Mince the garlic.
Gently heat the olive oil in a frying pan & add the peppers, tomatoes & garlic. Cook over a medium heat for a few minutes then add the water & salt to taste.
Cook gently, stirring occasionaly for 15 minutes or until the peppers are soft & the tomato has almost completely disintergrated.
Serve hot or cold with a splash of vinegar & some crusty bread.