Feijoada - Brazilian Black Beans With Smoked Meats
Linky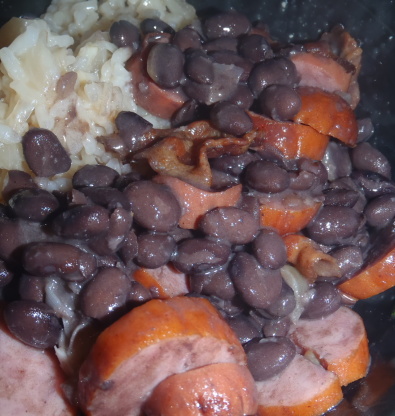 Feijoada is one of Brazil's national treasures. This is a dish that is meant to serve a group, and the preparation begins the night before. Several kinds of smoked meats, ribs, and beef jerky are simmered with the black beans. The meats are removed and served separately on a platter Preparation time includes soaking beans and beef jerky overnight. That is why it is so long.

I made this for Culinary Quest as posted, and didn't eliminate any meats. Please go to the thread on Yuku.com for photos, as I will no longer upload photos to food.com. This was a wonderful stew/soup. We really enjoyed it, and the mix of meats and seasonings was spot on. Thanks so much for sharing!
Preparation:
1.Soak the beans overnight in cold water. In a separate bowl, soak the beef jerky overnight, changing the water 2 or 3 times.
2.Place the beans in a large pot and cover with water. Add the ham hock and the dried beef. Simmer for 2 hours, or until beans are cooked but firm. Remove the ham hock and discard.
3.Add the rest of the meats and the bay leaf to the beans and simmer for 30 minutes, adding hot water if necessary to maintain an inch of water over the beans.
4.Heat the oil in a skillet and cook the onions and garlic until soft and golden. Add the parsley, and season with the cumin and salt and pepper to taste.
5.Add 3/4 cup of the bean mixture to the skillet and mash the beans with the onions. Add the this mixture back to the beans and meat. Simmer for 30 minutes more.
6.Remove the meats from the beans and cut them into smaller pieces or thin slices.
7.Arrange the meats on a platter, grouped by type. Serve the beans in a separate bowl. Serve with Brazilian-style rice, collard greens, pepper sauce and orange slices.