Feggous and Tomato Salad (Moroccan Chopped Cucumber and Tomato S
lazyme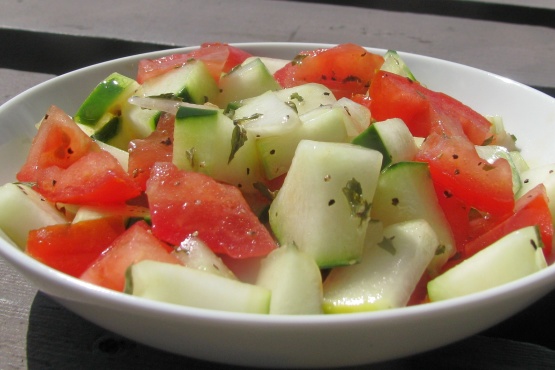 Posting this recipe for ZWT and it is just like a salad I make for my family with the exception of this one not including garlic salt. When I make mine I use apple cider vinegar and olive oil, along with the salt, pepper and garlic salt. This is a recipe I found on About.com under the Moroccan food section.

Like most people, I didn't have any feggous, so I had to use cucumber. I also used fresh mint instead of parsley, and I was so glad I did. I think it was the lemon and the mint that made this salad somethng different than your normal cucumber tomato salad. Made for ZWT9.
Lightly peel the feggous so that some dark green skin remains, and finely chop it. (If using regular cucumbers, you'll want to remove the seeds before chopping.).
Peel the tomatoes, seed them, and chop them into small pieces. Mix the tomatoes with the feggous, parsley or mint, onion, lemon juice or vinegar, oil and salt and pepper to taste.
If time allows, leave the vegetables to marinate at room temperature or in the fridge for up to an hour. Serve in small bowls or on individual salad plates.