Feel Better Ginger & Lemon Tea
iamafoodblog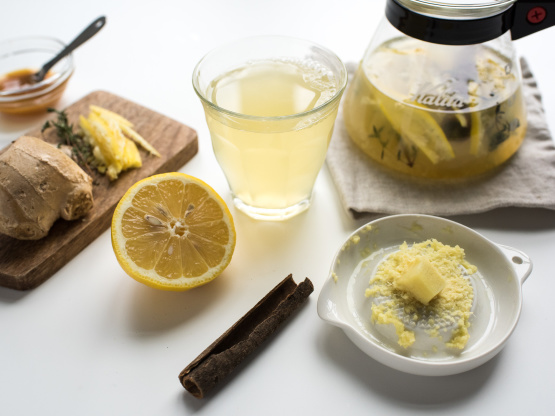 I came across this in a magazine giving ideas for healthy teas. I made this up and found it great either hot or cold. A nice change from ordinary lemon tea for when you have a cold or flu or even just to have hot on a cold night as a comfort drink or iced for a refreshing pick me up.

I tried before lemon,ginger,cinnamon and even thyme tea,but never together. I really enjoyed it. I used dried thyme. Thanks for sharing.
In your favourite teapot or plunger (I use my glass coffee plunger that holds 3 & 1/2 cups)combine the lemon juice, rind, cinnamon, thyme, ginger and honey.
Pour over the boiling water.
Place lid on and leave to stand for 5 minutes.
If using a plunger, plunge down and pour liquid into mug to drink hot or pour into a jug and place in fridge to chill. (I just place plunger into fridge as is).
To make another batch just add more of everything except the cinnamon and pour over more boiling water and wait another 5mins and plunge again.
Enjoy :).