Feel Better Chicken Noodle Soup
gertc96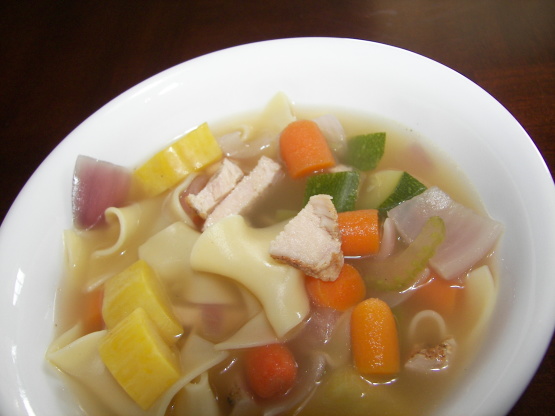 I whipped this up last week when I was under the weather with a sinus infection/upper respiratory/fever thing. I had no appetite, but needed something warm and comforting, and this did the trick. (Oh, and my family didn't leave me any leftovers, either! Thanks a lot, guys!) I used frozen home-made chicken stock with chicken harvested from a small fryer, but in a pinch, canned broth and chicken might work, too. Any short pasta would be fine.

This was really yummy... I had it on my menu to prepare for lunch on Friday but it came in handy today when my DD woke up throwing up.... I had some chopped up veggies (squash, zucchini and onion) left over from kebobs the other night and threw those in with the carrots and celery.... I also used some left over chicken I diced up that we prepared on the grill this weekend..... It was so quick and easy to prepare..... I did add some salt and pepper to taste and we sure enjoyed it..... Made for Photo Tag..... Thanks for sharing.....
Place broth, chicken, carrots, zucchini, and celery in a pot and bring to a boil over medium heat. Simmer for about 5 minutes, until the veggies begin to soften.
Add noodles and cook for an additional 10 minutes. Ladle into a large mug (that you can hold and sip in bed!) and serve with saltine crackers.
Feel better!