Derf2440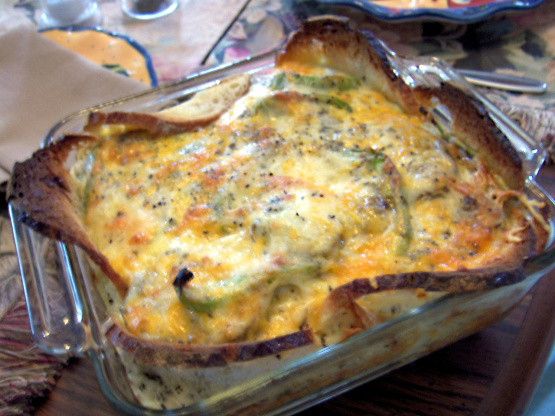 This egg dish is light and fluffy without the mess of omelet pans. Use any vegetables and cheese that you would put in an omelet. You can prepare it overnight or just before you bake it.

DH loved these eggs, thought they were a 5 plus, I thought they were a nice change and very tasty. I just made half a recipe for the two of us. Used fresh sliced tomatoes and fresh chives from the garden with cheddar cheese and 2% milk, salt and pepper with dried basil. I will be making these again, nice easy breakfast for company. Thanks for sharing. — May 4, 2005, 1 member found this helpful These were so good the last time I did them I decided to do them for some special guests from Holland for breakfast, every one decided the were definately a 5* recipe, again thanks for posting!
4

slices French bread or 4 slices white bread (you may only need 4 if they are a larger size)
1 1⁄2 cups grated cheese (cheddar, mozzarella, or any kind you want)
1 1⁄2 cups skim milk

6

large eggs
sliced mushrooms or bell peppers or any other vegetables
Grease a pan and place bread in a single layer covering the entire pan.
Sprinkle vegetables over the bread and top it with cheese.
Beat milk, eggs, and spices to taste and pour over the bread.
Cover and refrigerate overnight or bake immediately.
Bake at 400 for 30-40 minutes until puffy.