Annacia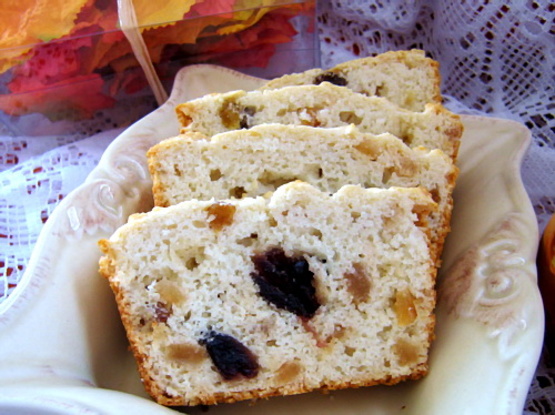 I absolutely love this recipe! It's so easy and so yummy. I don't make it as much as I used to for the simple reason that I tend to make a little piggy of myself when it's in the house, and no-one else gets a look in! It's great for afternoon/high tea with a little butter spread on it, and the kids love it!

Mmmm, what a FANTASTIC LOAF!!! I made it for breakkie this morning using fresh nectarines and cherries and it came out so moist and tender on the inside with a lovely crunchy crust on top! :) Following Annacia's lead I too used applesauce in place of the butter, which worked out nicely. Mine was cherry and apple, so my bread looks a bit darker than the others. THANK YOU SO MUCH for sharing this lovely recipe with us! I cant wait to make it again! Made and reviewed for PRMR August 09.
Sieve the flour into a bowl and cut in the margarine.
Rub in the margarine until it resembles breadcrumbs.
Wash the fruit and roll in a little flour (stops it sinking).
Add the fruit and sugar to the flour and mix.
Beat the egg and gradually add to the flour mixture.
Grease a loaf tin.
Pour the mixture into the tin and bake for approx 50 minutes at gas mark 5.
Test the loaf by inserting a clean knife; if it emerges clean, it's cooked.
NB-Most times I make this I double the recipe, as it gets eaten so quickly!