Favorite Sweet Milk Pancakes
Boomette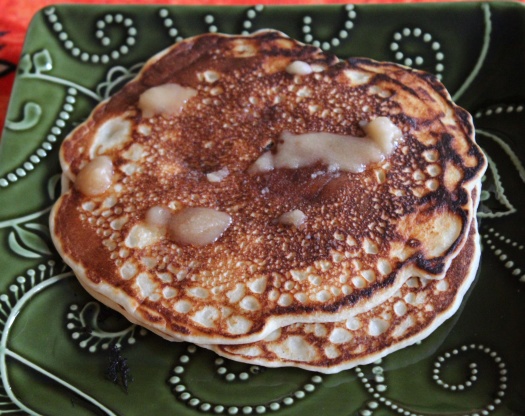 Thousands of pancake recipes here, and I couldn't find a recipe like this one. It was adapted from my mother's 1950 Betty Crocker's Picture Cook Book. No buttermilk or sour milk. Not too sweet. For a richer taste, substitute melted (and cooled) butter for the oil. Add half a cup of fruit or a quarter-cup of nuts if you want. I like them just as they are, served with some real maple syrup on top. (Cooking time is based on one pancake. Total cooking time depends on how many cakes you can fit in the skillet.)
In a medium bowl, beat the egg well with a fork or whisk.
Whisk in milk and oil
Add sugar and salt; whisk until well combined.
Sift flour and baking powder* together and add to milk mixture, stirring just untill smooth. (A few lumps are fine.).
Heat a heavy griddle or flat skillet over medium heat. Coat lightly with oil. (Using a brush or a paper towel will avoid over-greasing.) Test the temperature with a few drops of water. They should dance around the pan. (You can also make a "test" 'cake, using a very small amount of batter, just to be sure.).
Pour about 1/4 cup of batter onto hot griddle. (I use a 1/3-cup dry measuring cup. A little batter will always stay behind in the cup.).
As soon as the pancake is puffed up and starting to show bubbles, turn and brown the other side, making sure that it's browned on the bottom. (It's okay to peek.).
Serve immediately or keep warm, covered, in a very low oven until ready to serve.
*Note: If batter has to stand a long time, add a little extra baking powder.