Favorite Quick & Easy Asian Stir-Fry
BecR2400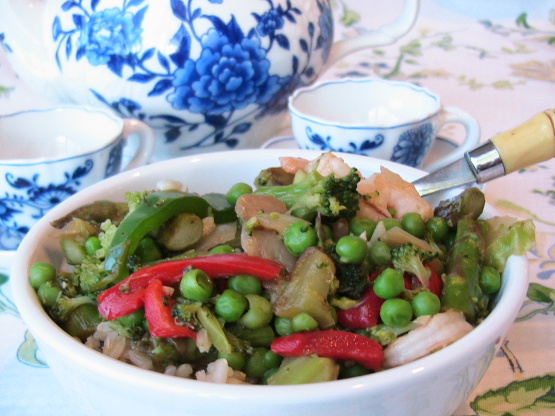 We really love the ease and versatility of this stir-fry! Use your favorite combo of fresh and frozen stir-fry veggies, meat, chicken or fish. Lovely with a pot of jasmine, green or oolong tea and a glass of sake or plum wine. Enjoy!
Warm wok or large skillet on medium heat.
Add a couple tablespoons oil (I use peanut oil for stir frying, as it has a high heat tolerance).
Toss in the chicken (or beef), turn up heat to med-high . Stir fry the chicken for a few minutes until no longer pink.
Add in frozen stir fry veggies (and fresh asparagus tips, etc), and stir well. Continue to cook for about 15 more minutes, stirring occasionally, until done to your liking (you may need to add a couple tablespoons of water).
Stir in the frozen peas and heat through for a few minutes. Add in the frozen precooked shrimp with the peas, if desired.
You can add about 1/2 teaspoon of Chinese Five Spice Powder, if desired. (A dash of sherry and reduced sodium soy sauce is good, too, as is a swizzle of sesame oil).
Serve over hot rice and top with crisp chow mein noodles, if desired. Makes 4 servings.