wcdooley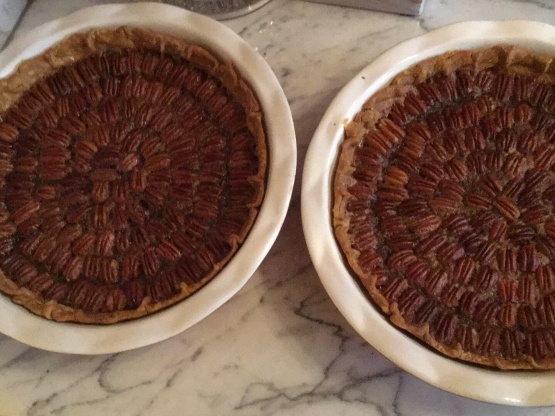 From Southern Living, this is my favorite pecan pie. The difference comes from the butter, sugar and corn syrup being cooked together before other ingredients are added. I prefer the recipe as stated, but Southern Living says you may also add 3 tablespoons rum with the eggs for a Rum Pecan Pie. Praline liquer is even better. Note the recipe calls for pecan halves, not chopped pecans. It takes about two minutes to arrange the pecans in concentric circles on top of the filling, making a beautiful presentation that will impress your friends and family. I've also used 1 1/2 cups chopped pecans instead of pecan halves.

I live here in Texas where we are known for pecans and pecan pie. I myself have two pecan trees in my yard and use them to make pecan pies. I am always searching for the best pecan pie recipe and without a doubt have no found it. It is absolutely the best pie I have ever eaten. It is creamy and not to sweet and bakes up beautifully. After 1/2 hour of baking I do use the pie crust shield to prevent the edges from browning. A+ to this pie.
Combine butter, sugar and corn syrup in a saucepan; cook over low heat, stirring constantly, until sugar dissolves. Let cool slightly. Add eggs, vanilla and salt to mixture; mix well.
Pour filling into unbaked pastry shell and top with pecan halves. It is important to lay the pecans on the surface in concentric circles. It may sound a little OCD but there is good science behind it. When the pecans are fully coated with the sugar syrup, they never parch. If you lay the pecans on the surface over 1/2 of each pecan is not coated and will leach out pecan oils during the baking and give the pie a wonderful parched pecan flavor. To further tweak the flavor brush freshly cooked pie with a little browned butter and dust with super fine sea salt.
Bake at 325 degrees for 50 to 55 minutes. Serve warm or cold.