Sageca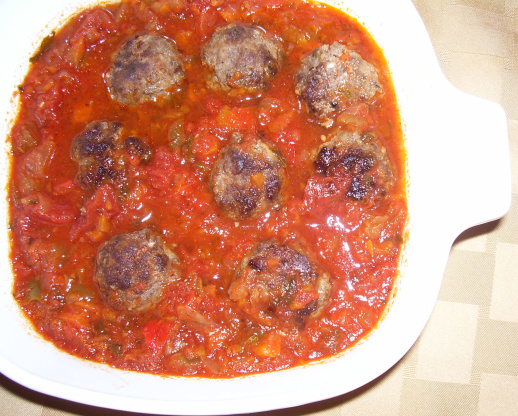 This is the only meatball recipe I've ever used. Given to me by a friend at work, my family has been enjoying these for over 30 years. Use a good quality of Romano. Sometimes I just substitute onion powder if I'm short on time.

Very nice meatball recipe that was enjoyed by all. I usually make my mom's recipe which uses fresh bread instead of dry bread crumbs, so this was a change for us, but everyone still liked them very much. I added them to my homemade sauce after broiling them and then simmered for about 2 hours. We have leftovers (I got 30 meatballs out of the batch) and everyone is already talking about meatball sandwiches! Thanks! (Made for Pick A Chef Fall 2007)
Mix all ingredients well and shape into 30-36 meatballs about 1 1/2" in diameter.
Brown meatballs in broiler on all sides. (Usually turn them once. Be sure to watch them carefully as they don't take very long).
Add browned meatballs to sauce and cook in sauce.
If jarred sauce is used, they heat in about 30-40 minutes.
If sauce is homemade, I usually just simmer them for several hours while sauce is cooking.