Boomette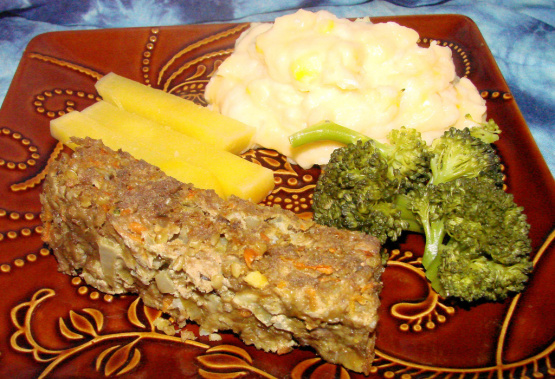 This recipe, along with its vegan counterpart, is from the 2001 As You Like It Cookbook.
This is a good healthy meatloaf. I like the addition of carrots and bulgar wheat. I prefered it topped with ketchup. When I'll do it again, I'll add ketchup before baking. Or maybe a little bit of ketchup mixed with the meat. It would add a little bit of moisture. Thanks Syd :) Made for PRMR tag game
Preheat oven to 350 degrees F, then oil an 8"x4" loaf pan & set it aside.
Heat the oil in a large skillet over medium heat, then add onions, carrots, garlic, savory, thyme & salt.
Saute for about 3 minutes, or until the vegetables begin to soften, then add the bulghur & cook another 3 minutes, before removing from the heat & setting aside.
In a large mixing bowl, combine ground beef & egg, then add the sauteed vegetable mixture, mixing by hand until well combined.
Transfer the mixture to the prepared loaf pan & bake in the oven 30 to 40 minutes or until the top is lightly browned & the loaf is firm to the touch. Remove the pan from the oven & run a dull knife along the sides of the pan, then invert it onto a serving plate to release the loaf. Let sit about 5 minutes before slicing & serving.