Favorite Frosted Brownies
Pamela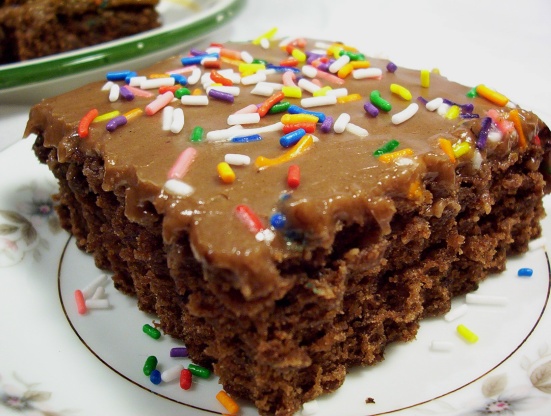 This is a very rich and creamy brownie. Almost like a cake, with the frosting. Got it out of a Taste Of Home Magazine. They were a HIT! at our Church pot luck!

A wonderful recipe ... just like the kind my grandma used to make. For the frosting I boil together 3/4 c. white sugar, 3/4 c. brown sugar with 1/3 c. milk, boil ONE minute, remove from heat and add 1 tsp of vanilla, 1/4 stick butter, and a 12-oz package of mint chocolate chips. When butter and chips are melted, pour over cooled brownies. Sets up like fudge!
In a large mixing bowl, cream butter and sugar.
Add eggs, one at a time, beating well after each addition.
Beat in vanilla.
Combine the flour, cocoa, baking powder and salt; gradually add to creamed mixture and mix well.
Spread into a greased 13-inch x 9-inch x 2 inch baking pan.
bake at 350° for 25-30 minutes or until a toothpick inserted near the center comes out clean.
Cool on a wire rack.
For frosting, in a mixing bowl, beat the butter, milk and vanilla; add cocoa.
Gradually beat in confectioners' sugar until smooth.
Spread over cooled brownies.
Decorate with sprinkles if desired.