ChefLee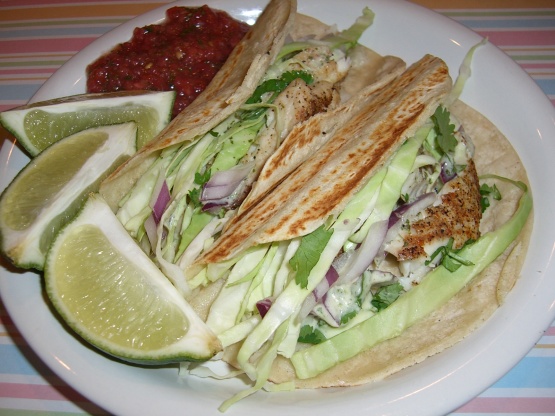 This is really a fast and easy dinner. I've used several different white fish for this recipe...just use your favorite!

We used tilapia for our first attempt to fish tacos with this recipe. No cabbage for us. Just used cilantro, salsa, lemon juice, onions and the spices recommended in the recipe. We used the small whole wheat tortilla and it tasted great! We will do this one again (hubby told me: make sure you save this recipe!) :D the only bad part was that i didn't make enough to have left overs! :)
we had it along with Mexican Casserole (http://www.recipematcher.com/index.php/recipe/match/Mexican-Casserole)
Season fish filets and place on foil, sprayed with cooking spray placed on broiler pan. I usually use a chili powder and cumin.
Place 6 inches from fire in broiler approx 3 to 4 minutes. You only need to broil one side!
In the mean time, on an oiled griddle lightly fry corn tortillas (placing 2 together) so actually out of 4 sides you are only grilling 2 of the sides.
I usually keep fresh salsa on hand (tomatoes, jalapeños, garlic, onion, cilantro and a couple of squeezes of lemon juice).
Assemble -- tacos -- tortillas, fish, cabbage, onion, cilantro and salsa!