Bergy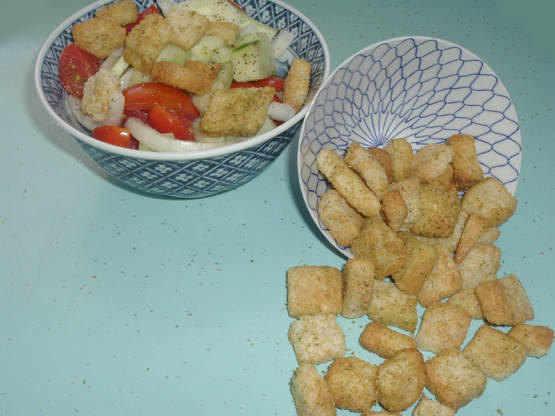 After trial and error this composite of spices seem to suit most of my family members. Some want it spicy hot, some can't abide any spices. I wouldn't want any fewer spices than these few basic ones. The croutons should be watched closely while cooking as they will burn quickly.

I like this and will make again. and, yes, watch that they don't burn. I burned my first batch! Thank you for the recipe.
Pre-heat oven to 350 Degrees F.
Spread aluminum foil over a cookie sheet and set aside.
In a medium sized bowl, mix together the oil and spices.
Stir well to blend.
Add bread pieces and toss to coat well.
Spread bread pieces out in single layer on foil lined cookie sheet.
Drizzle any remaining oil over bread and place in oven.
Bake for about 15 minutes, or until lightly browned.
Turn once halfway through baking time to brown, evenly.
Watch closely to prevent burning.