Favorite Chile Con Queso (A.k.a. Chile Cheese Dip)
DuChick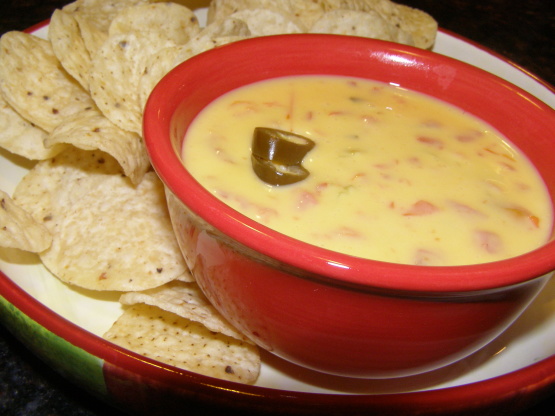 I tweaked a recipe from the back of a can of Rotel Tomatoes to suit my friends and I. I have made it this way for many parties and have always gotten rave reviews. It works well in the crock pot also, and that way is recommended if you are making it for a party, etc. where it will need to be kept warm.
Dice the cheese into approximately 1-inch cubes.
Into a medium saucepan, put the cheese, Rotel tomatoes and the jalapeño slices, reserving the juice from the jalapeños.
Heat over medium heat approximately 5 minutes until the cheese is melted, stirring constantly.
Add the juice from the jalapeños to make the desired heat as well as the desired consistency. I usually add about 1/2-3/4 of it.
Serve hot with tortilla chips.
Can also be done in the crock pot to keep it warm for parties, etc.