Favorite Apricot Nectar Cake
flower7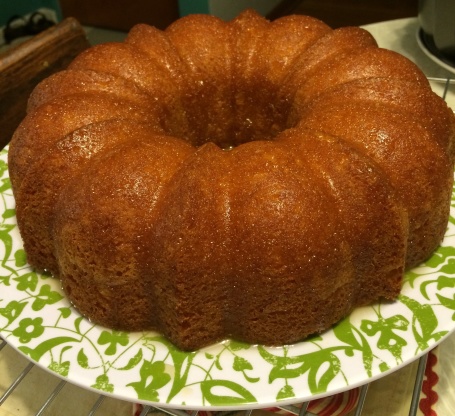 Yum! I can't wait to try this recipe. It is from "The Cake Mix Doctor" By Ann Byrn.

I made this cake for a co-worker's birthday and got many compliments. The sticky glaze was the most popular part. I did have trouble getting the glaze to soak in when spooning it over so most of it ended up pooling on the plate, where it soaked into the bottom of the cake. This made for a nice surprise at the bottom! Otherwise I thought this was really easy and tasted great.
Preheat oven to 325. Lightly mist a 12 cup Bundt pan with vegetable oil spray, dust with flour. Shake out excess flour.
Place cake mix, gelatin, apricot nectar, oil, lemon zest, and eggs in mixing bowl. Blend with mixer on low speed for 1 minute. Stop machine and scrape down sides of bowl. Increase mixer speed to medium and beat 2 to 3 minutes more, scraping down sides of bowl again, if needed. The batter should look thick and smooth. Pour batter into prepared pan. Place pan in oven.
Bake cake until it is light brown and springs back when lightly pressed with your finger, 40-42 minutes. Remove pan from oven and place on wire rack to cool for 10 minutes.
Prepare glaze. Combine confectioners sugar, lemon juice, and apricot nectar in small saucepan and heat over medium-low heat, stirring, until sugar has dissolved, 3 to 4 minutes.
Run a long, sharp knife around the edge of the cake and invert it onto a platter. While the cake is still warm, poke holes in the top with a toothpick or wooden skewer. Spoon glaze onto cake so that it seeps down into the holes. Let the cake cool before slicing.