Fava (Lima) Beans With Mushrooms
Bergy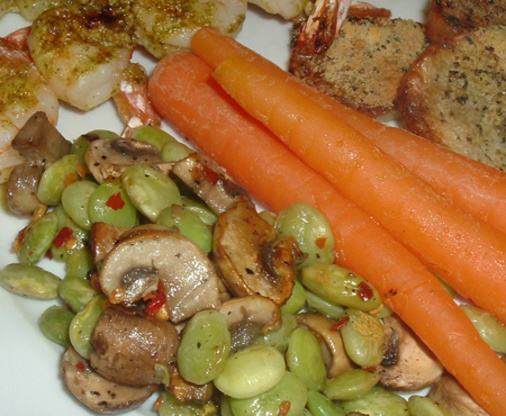 Fava beans are delicious when prepared properly. Always remove the membrane from the beans - tedious but worth the effort. Frozen & canned still have the membrane on them. To remove the membrane on both the frozen and fresh immerse beans in boiling water for 5 - 1o minutes, the membrane will turn whitish, rinse under cold water and pop off the membrane. If you use canned beans the membrane can just be slipped off. Fresh, frozen or canned bean may be used. If using canned they require less final cooking time - just enough to heat them through and cook the mushrooms
Melt the butter & olive oil in a skillet large enough to hold the beans & mushrooms in a single or at most, double layer.
Add prepared beans, mushrooms, Chili & wine (juice).
Season with salt & Pepper.
Cover and simmer for apprx 10 minutes or until the beans are tender. timing depends on the size of the beans.