Parsley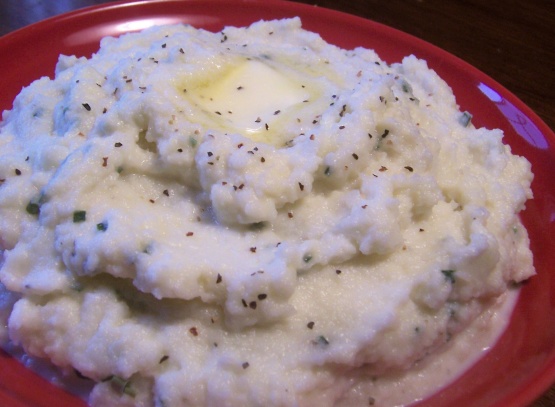 Is it pureed cauliflower or garlic mashed potatoes? First time out, my wife couldn't tell it wasn't potato until I told her...

Wow! This was sooo delicious! While I don't think you could "fool" too many people and call these potatoes, this was still an extremely tasty side dish and a fantastic alternative to potatoes. I tried a recipe similar to this when I was on the South Beach Diet and it was severely lacking in flavor, but this one was the exact opposite. It had great texture as well - nice and thick. I used 1/3 less fat cream cheese and also mixed in some light sour cream. Before serving, I topped it with a dollop of Smart Balance spread. Yummy Yummy! Thanks for sharing this outstanding recipe.
Set a stockpot of water to boil over high heat.
Clean and cut cauliflower into small pieces.
Cook in boiling water for about 6 minutes, or until well done.
Drain well; do not let cool and pat cooked cauliflower very dry between several layers of paper towels.
In a bowl with an immersion blender, or in a food processor, puree the hot cauliflower with the cream cheese, Parmesan, garlic, chicken base, and pepper until almost smooth.
Garnish with chives, and serve hot with pats of butter.