Fats Waller Hot and Sassy Cornbread
Katzen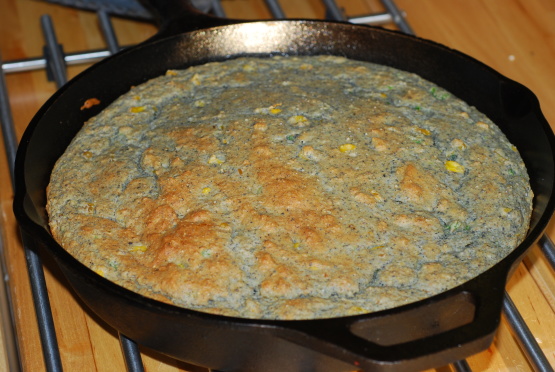 Fats Waller was an American jazz pianist, organist, composer and comedic entertainer. Many songs he wrote or co-wrote are still popular, such as "Honeysuckle Rose", "Ain't Misbehavin'" and "Squeeze Me". 'He was known as the soul of melody....a man who made the piano sing...both big in body and in mind...known for his generosity...a bubbling bundle of joy'. Well, if he were still around, he'd write a song about this cornbread! Adpapted from The New Basics Cookbook.

Top Review by Katzen
This is definately cornbread worth singing about! I picked up some blue organic cornmeal to make this with, and baked it in a cast iron pan, as recommended. I stuck to one jalapeno today, and it added the perfect zip! I loved the colours in this, the blue, yellow, and green. Thanks, Sharon! Made for our wonderful VIP in Veggie Swap #20!
Preheat oven to 400*F.
Butter an 8" square baking pan.
Toss the dry ingredients together in a mixing bowl.
In another bowl, stir the cream style corn and all the rest of the ingredients together until smooth.
Add half the liquid mixture to the dry mixture, stirring just until blended. Add the remaining liquid and again stir until just blended. Pour the batter into the prepared baking pan.
Bake at 400*F. until the top is golden and a toothpick or knife inserted in the center comes out clean, about 25 minutes. Cool slightly in the pan before cutting into squares. Enjoy!
Note:.
For a dark, crisp crust, bake the batter in a preheated, greased cast iron skillet. Serve fresh and hot with sweet butter and honey!